Natalie M., "Absolutely adore Anny! I recommended Anny for a wedding party I was in after working with her on a fashion shoot. She absolutely did not disappoint. She Is professional calm and really understands what you your inspiration for your look is. I have been in weddings and have always felt that the makeup looks so unnatural and over the top. She's the sweetest and so calm admits all the craze of weddings . Her ability to to work on all skin tones and make it look so natural is phenomenal ! Highly recommended."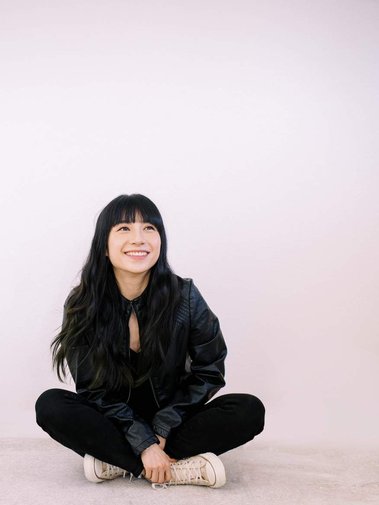 ANNY CHOW
Founder of Anny Chow Bridal & COSMETAT
Anny Chow Bridal is one of Portland's leading Asian bridal makeup and hair teams. Anny Chow Bridal is made up of a team of two, makeup artist Anny Chow and hairstylist Andy Tseng. Anny and Andy both have over a decade of experience working in the industry. Anny started Anny Chow Bridal in 2013 in New York to provide specialized bridal makeup and hair services. She moved to Vancouver, Washington in 2020 and relocate Anny Chow Bridal to the Pacific Northwest. Andy Tseng joined her soon after in 2021. The duo reunited again and has quickly built their reputation in the new area.

Anny started her makeup career as a freelance makeup artist for Shiseido, Estee Lauder, Anastasia Beverly Hills , and luxury brand Clé de Peau Beauté in her early twenties. She also had gained a lot of backstage experience working in film, theater, and the fashion industry. Her vast makeup experience in the fashion world has inspired her current effortless makeup style. Such experience also had help her to develop her current approach to makeup.
Anny understands skin well and is experienced in working with global skin tones. She is widely known for her ability to create beautiful skin and complexion. Her in-depth knowledge of different Asian makeup styles has made her one of the most sought-after Asian bridal makeup artists in the Portland and Seattle area. Her private makeup & hair studio is located in the downtown Vancouver Waterfront area to provide makeup and hairstyling services and private makeup lessons for her clients.
CLICK HERE to discover the makeup and hairstyling services we offer
CLICK HERE to inquire
Julie O.,"Andy was the hairstylist for my wedding this summer. He did two different styles for me (switched on-site between the ceremony and reception). Both were absolutely perfect and exactly what I wanted- and that says a lot because I am quite picky! He also styled all of my bridesmaids and my mother and everyone looked incredible.
Andy is clearly passionate about hair. He is meticulous, thoughtful and understanding. I also loved his calm energy which is very helpful before a big event. I truly couldn't recommend Andy more."

ANDY TSENG
Hair Stylist specializes in styling & haircut
Born in Taiwan and growing up in Seattle, with an art school background in animation and design, Andy had developed a keen sense of shapes and designs. He became a hairstylist in the early 2000s then moved to New York to explore the fashion world to hone his skills.
Through assisting some of the biggest names in the fashion hair world, including Matthew Curtis, Rolando Beauchamp, Nicolas Jurnjack, and Shintaro Teraoka, and years of experience working backstage in New York Fashion Week, Andy Tseng had paved his own path quickly through his skills and his trained eyes for details. When he was in New York, you could always find him working alongside with celebrity hairstylist Danielle Priano styling high-profile celebrity clients. He had worked extensively in the fashion industry as an editorial hairstylist for fashion shows, magazines, and celebrity events and campaigns.
He met Anny while both were working in the fashion industry in New York. Though with their vastly different personality, they quickly became friends as they both shared very similar esthetics in their work and approach to beauty. Anny started Anny Chow Bridal in 2013 and asked Andy to be the hairstylist because she wanted to bring in a skilled hairstylist who knows how to create beautiful textures and an effortless feel. Such opportunity opened up a whole new world for Andy. He found that his greatest passion is in partnering with brides to create the hair look that brings his clients' vision into reality.
From romantics soft updos to glamorous Hollywood waves to his signature effortless waves, Andy is able to craft a wedding hairstyle that delivers the level of excellence all brides deserve. As a bridal hairstylist, Andy is known for creating hairstyles that are certain to make any bride feel confident on her wedding day.
To learn more about the makeup and hairstyling services we offer, CLICK HERE
Interested in working together? CLICK HERE