by Anny Chow
Spring is finally here! The wedding season will start in about a week in Portland, Oregon. Spring is the season in which we have a lot of outdoor weddings in the Pacific Northwest because this season is full of fresh blossoms.
A lot of my future brides had asked me to share some of my favorite sunscreens to use under bridal makeup applications on their wedding day. There are two types of sunscreens: mineral sunscreen and chemical sunscreen. Chemical sunscreen is usually my preferred sunscreen to use under makeup, especially bridal makeup for weddings. That is just my personal preference. I think makeup tends to stay better on chemical sunscreen than on mineral sunscreen. Here are some of my personal favorites: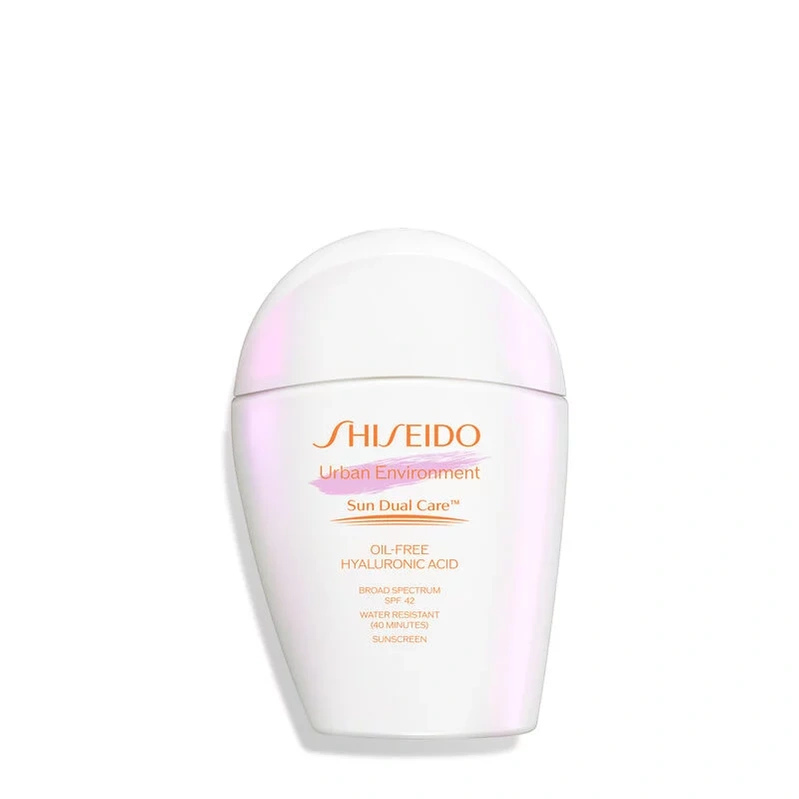 Shiseido Urban Environment Oil-Free UV Protector Broad Spectrum Face Sunscreen SPF 42

This is a great oil-free sunscreen for oily skin. Retail price is $48 for 50ml. The texture of this sunscreen is very lightweight. It controls oil and mattifies skin. You can even use as a makeup primer for oily skin before wedding makeup application. However, I do not recommend this sunscreen for someone with dry skin.
I also light to use this sunscreen when I have to do male grooming. We also offer light makeup service for groom. I like to use a tiny bit of this sunscreen on the groom's t-zone to control oils and mattify the t-zone.

But there is one con about this sunscreen which is it could leave a white cast. If your skin is fair and light, it's not going to be a problem. It actually helps to brighten up skin. However, if you have medium or darker skin tone, or if you are going for a more sun-kissed look, this is probably not the best sunscreen for you.

You can purchase this Shiseido sunscreen from Shiseido and Sephora.
This sunscreen is the original product from Supergoop. Retail price is $36 for 1.7oz. It does not leave any white cast. This sunscreen is totally invisible which makes this a perfect sunscreen for all skin tones prior to any wedding makeup application. The formula is very lightweight and it gives the skin a velvety finish. The formula is both oil-free and fragrance-free. Perfect for sensitive skin. Like the Shiseido Urban Environment Sunscreen, this sunscreen is also a great product to use as a makeup primer under foundation. Perfect for brides with any skin type.
You can purchase this the Supergoop Unseen Sunscreen from Supergoop and Sephora.
Biore UV Aqua Rich Water Essence Sunscreen
Unlike most sunscreen consistency, which is heavy and thick, this Biore sunscreen is gel-like just like a facial serum. Biore UV Aqua Rich Water Essence Sunscreen is one of the most popular Japanese sunscreens. The texture is light and makes this sunscreen perfect for everyone. This sunscreen is my go-to when I work with brides who prefer to have lighter texture products on their faces. It also contains hyaluronic acid and glycerin to hydrate skin. Skin feels fresh and dewy after use. It doesn't leave any white cast. Great for all skin types and skin tones.
You can purchase Biore UV Aqua Rich Water Essence Sunscreen from Stylevana.
Isntree Hyaluronic Acid Watery Sun Gel
This is one of the most popular Korean sunscreens. SPF 50+ and PA ++++. 50ml for $26.00. UV Filters are This sunscreen is perfect for brides with dry skin. I personally have dry skin so this is my personal favorite for sunscreen. This gel formula is fortified anti-aging ingredients such as ceramide, astaxanthin, centalla asiatica extract, and fig fruit extract. It also contains eight different kinds of hyaluronic acids to replenish moisturize and hydrate skin. No white cast and no sticky feeling. Because of its hydrating property and dewy finish, if you plan to use this sunscreen under wedding makeup, make sure you apply the sunscreen at least 15 minutes before makeup application on the wedding day.
You can purchase Isntree Hyaluronic Acid Watery Sun Gel from Amazon, YesStyle and Stylevana.
Shiseido Ultimate Sun Protection Spray SPF 50+ Sunscreen
I shared a few of my favorite sunscreens for the face before bridal makeup. I think it's worth mentioning sunscreen for the body on the wedding day. After all, our face is not the only place that needs sun protection. For brides who get sunburned easily and plan to wear a strapless wedding gown, they should consider including sunscreen in the wedding day emergency kit. You can totally use face sunscreen for the body. But just in case you wonder if there is a sunscreen that's easy to apply to the body, you can give this sunscreen from Shiseido a try. It retails for $40 for 5oz. It's lightweight and colorless. This is a spray-type sunscreen that is great for hard-to-reach areas. It does contain a light fragrance. So if you plan to wear perfume on the wedding day, you might want to use sunscreen that has no fragrance.
Have you tried any of the sunscreens I mentioned above? Do you plan to wear sunscreen on your wedding day?